Do you know what's awesome?  A good story.  So I thought I'd tell 10 of them to you today involving medicine.  This might sound a little dry - hopefully it isn't and you find this as cool as I did when I heard these stories.
Full disclosure, these stories were told to me by various attendings through out medical school and residency, or I found them in medical journals.  I fact-checked what I could but some of them were somewhat un-fact-checkable so…take them for what they're worth. 
Also, a quick disclaimer:  None of what you are about to read will *in any way* substitute for seeing a medical provider if you have a problem or are looking to prevent, treat, or cure a condition.  These are stories and explinations and should not be considered a substitute for medical care.  Do NOT assume that anything read below or a variation of anything below should be tried or taken without speaking with a licenced medical professional first.  This blog, like all my others, is for fun and interest.  Cool?   Cool. 
Now…since that's out of the way, I hope you like the stories.  Let's do this thing!
Ten Awesome Medical Stories (in no particular order)
#10.  The Story of the World's Oldest Antibiotic
Silver vies for what might be the oldest antibiotic in recorded human history and is still used today for that purpose.
The ancient Greeks, even Hippocrates (you know, the Oath guy), himself, wrote about the anti-pyogenic properties of silver.  They didn't know what bacteria were, but did observe that when a wound became purulent (containing pus) that this was bad.  I'm not sure (and can't find) the reason why they started putting silver in pus-filled wounds, but it seemed to work, some of the time.  This is why Hippocrates wrote about it.
As recorded human history progressed, Silver was used as a container.  It wasn't just pretty - it was functional.  People observed that water contained in silver pitchers would not become "scummy" as quickly as water not in silver pitchers.  I have read that the Catholic Church commissioned church chalices to be made of silver for this reason, though even with the Internet at my disposal, I couldn't definitively find if they did this for anti-bacterial reasons or asthetic ones.
Have you ever wondered by silverwear is called "silverware"?  Although these days silverware is rarely made out of silver (plastic silverware…sigh), in earlier centuries the wealthy families would use silver eating utensils and it has been theorized that this was because silver was perceived to be an anti-sickness (anti-bacterial) material.  Again, though, it's hard to tell whether or not this was for anti-bacterial or aesthetic reasons.
Silver preparations were used for ear infections in the 19th and early 20th century - and today, silver is still used.  Have you ever been prescribed silvadene cream for a burn?  Know why it's called "silvadene?"  The US Army also uses silver infused dressings for combat wounds and site a 33% faster healing rate.  An old attending physician of mine swore by them - and had to treat combat wounds himself.
I wish I could report that silver was, well, an antibiotic silver bullet (sorry).  Recent systematic reviews have suggested that silver dressings and topical preparations don't improve wound healing.  But there is tentative evidence that silver urinary catheters and endotrachael tubes may prevent nosocomial (hospital acquired) infections. 
I always found it very interesting that some of the oldest medical treatment in human history finds itself into to the most modern of ICUs. 
#9.  The Story of the Gin and Tonic
Did you think this was a medical thing?  Well, it is and it's a fairly short one.
As it was told to me, gin and Tonic was started in India when British soldiers were given quinine water to combat malaria.  Well, nobody wanted to drink it because the quinine was too bitter.  Since they were also given a ration of gin, the rather enterprising Limeys decided to mix the gin and tonic together to improve the taste of the tonic water.
Seems people still like it.  Especially at Thumbs in Ames, on Thursday nights.  The next time somebody asks you why you're drinking a gin and tonic at 2 in the afternoon, you can tell them you're fighting off malaria, just like the British Soldiers.
#8.  The Story of Rabbits, Cigarettes, and Sinuses
So, there's two things you need to know about the Story of Your Sinuses before you hear the story…
1.  Cilia continue to work after the organism they exist in dies.
2.  The guy who figured this out was a chain-smoker.
The scientist who figured all this out was a chain-smoking Nazi, actually, and because of his political affiliations, his work wasn't distributed as widely as it could have been.
Essentially what happened was the scientist was working on rabbits and examinining their sinus cavities (you don't want to know how he got a good look at the sinus cavities of rabbits).
So, cilia are these little cells that have tiny little hairs on them that beat in a certain direction.  These cilia line the inside of your lungs sweeping up, up, up, so that all the mucus which has trapped various pathogens and bacteria all gets swept up, up, up, until it gets past your trachea and into your esophagus, where you swallow it and the bacteria is killed by stomach acid.
So, the same thing happens in in your sinuses.  Here's how it was discovered:

The Chain Smoking Scientist (We'll call him Dr. CSS) was doing his experiments on rabbits and, while doing it, accidentally let some of his cigarette ash fall into the sinus cavity of the rabbit he was working on.  Thinking that the rabbit was of no use to him, Dr. CSS set it aside, and got to working on the next rabbit.  Something about the second rabbit made him go back to the first rabbit where he made an interesting discovery…the cigarette ash was no longer in the sinus cavity.  Upon further investigation, Dr. CSS discovered the cigarette ash had been moved down into the rabbit's esophagus.  

This prompted him to do a microscopic examination of the sinus cavities, which discovered the cilia lining the sinuses, which prompted the discovery that the cilia beat in a uniform and direction pattern in both rabbits and humans, which is how your sinuses clear themselves.

The irony of the whole story is that the very thing that discovered the cilia (cigarette ash) is actually something that inhibits their action.  Cilia are paralyzed by cigarette smoke so they can't beat in their rhythmic pattern, clearing the sinuses (and the lungs).  This is why smokers have more sinus infections and lung infections.  This is also why children of smokers have similar problems, as well as more ear infections (second hand smoke does the same thing).  If you or anybody you know ever quit smoking, you might know that they coughed like hell for the first week after they quit.  This is because the cilia woke up, looked around, and realized they had a great bit of house keeping to do.
So don't smoke.  It is highly unlikely you will make a similar discovery based on cigarette ash.
#7.  The Story of Clover and Cows
My grandfather didn't want to take a medicine that had been prescribed to him.  He said it was rat poison.  He was right, of course, but there's a little more to the story to his medicine than it being rat poison.  
"Grandpa," I asked, "I heard you're not supposed to let your cows graze in clover fields, isn't that right?"
A somewhat incredulous look passed over my grandfather's face.  
"Of course that's right.  Everybody knows that."
Of course they do.  Except me, until I took pharmacology.  The thing is, Grandpa knew more about his medicine than he realized.  Grandpa was an 85 year old farmer at the time of this conversation and knew a hell of a lot about farming.  
Because people are a naturally curious and inquisitive species, other farmers like Grandpa had made similar observations about clover and cows and had started to wonder why they die after grazing in clover fields for a long time.  The good people at the Wisconsin Agricultural Research Foundation put some real effort into this questions in the first part of the last century because, well, Wisconsin has a fair amount of cows.  Eventually, they derived a compound that, when purified, inhibits the clotting of blood in animals.  Now we know that it essentially screws up Vitamin K's action on your clotting factors.  
A rather clever person surmised that this could be used as rat poison and this was the rat poison that Grandpa was referring to.  You can still find this rat poison - and mole poison - at Earl May to this day.  
Let us break from the story for a second and talk about blood flow through your heart, so you can appreciate the rest of the story.  It'll be quick, I promise…
If you're a blood cell, here's how your trip would go.  You would come up from your person's leg after dropping off your oxygen in a muscle so your person could walk.  You would come up a vein called the vena cava which would drop you off into your person's heart's right atrium.  This is the first of four chambers in the heart.  The right atrium would coordinatedly contract and send you down into the right ventricle.  The right ventricle would contract with more force and send you up into the lungs, where you (remember, you're a blood cell) would find more oxygen.  
From there, you would go down the pulmonary vein to the left side of the heart, specifically the left atrium.  The left atrium would coordinately contract and you would drop down into the left ventricle.  The left ventricle is the monster and would pump you out into the body where you find somewhere else to drop your oxygen.  The right and left ventricles are responsible for pumping the blood to the lungs and the heart, respectively, so they're kind of a big deal.  Eventually, you, the blood cell, would find your way back to the vena cava and do it all over again.
Here's the thing - when the atria don't contract with coordination, that's called atrial fibrillation or a-fib.  When that happens, the blood can sort of sit in the atria.  Think of when stuff sort of collects in a river when a river comes around a bend and the water gets out of the main flow of the river.
Well, in the right atrium, that's not a super huge deal because the lungs act as a net and the clot breaks down.  But in the left atrium, it is.  That monster of a left ventricle pumps the clot out into the body and it can plunk right down into the brain.  That's called an ischemic stroke.
So people with a-fib would just sit there, wondering if a clot would get thrown to their brain.  If you have a-fib and it's untreated, your chances of a stroke are 1/10 in 12 months.
So, back to our story.  An even more clever person built on the idea and questioned whether or not this clover compound they named warfarin could stop clotting that you didn't want.  Essentially, if people had a-fib, could you stop the clotting within the left atrium that got sent to the brain and caused a stroke?
Well, it turns out you can.  A person who is properly anti-coagulated (placed on the right dose of warfarin), has a stroke risk of 1/40 in one year.  That's much better than 1 in 10…
So that's the story of how clover, cows, and farmers prevented more strokes than we may ever know.  The good farmers at the Wisconsin Agricultural Research Foundation got a chance to name the compound they derived and that's where warfarin came from.  And I got a chance to tell my grandpa a story, instead of the other way around.
#6.  The Story of Putting Your Mouth Where Your Money Is
Several years ago, a pair of Australian Scientists named Barry Marshall and Robin Warren had been studying gastric ulcers in patients and noticed the presence of  bacteria they called H.Pylori.  They hypothesized that the bacteria was the culprit in actually causing the ulcers, and did (and I can't keep stressing this enough) real scientific testing to prove it.
They had the data, and they had the evidence to suggest they were right.  Unfortunately, they were pretty much laughed out of the building by all the other scientists who couldn't, umm, stomach (sorry, couldn't help it) the idea of bacteria living in the high acid environment, causing ulcers.  Everybody said Marshall and Warren were FOS (full of ____) .  But they knew they were right.  So what do you think they did?
They got a bunch of h.pylori and drank it down with a nice Foster's chaser.
(In the interest of accuracy, I should mention that I totally made up the part about the Foster's)
(But they did ingest the bacteria)
They then, of course, got some great stomach and GI ulcers and people paid attention to their research.  More studies were done and it turned out they were right.  Ulcers were being caused by h.pylori.  The research extended beyond just ulcers…they found out h.pylori was causing gastric and intestinal cancers, GI bleeds and upsets, and what's more, could be treated with the right combination of antibiotics. 
Oh, and don't feel bad for the Aussies, they got four million dollars and a Nobel Prize for their efforts.
#5.  The Story of Bones and a Headache
In the 1800's a man named Andrew Taylor Still (AT Still) lost three of his kids to spinal meningitis.  He had seen them suffer under the only treatments at the time which were unfortunately quite ineffective and may very well have been worse than the cure.  He himself had been subject to some of the "medical" treatments of the day that came with no scientific basis or evidence at all and didn't care for them (the "blue mass" suppositories which were mercury suppositories for constipation was pretty high on his list of things he didn't like).
AT Still also recalled something else - he used to get headaches as a kid and figured out that if he stretched a rope between two trees at ground level, and then laid down his head down on the rope right underneath where the back of his head met his neck (facing up, of course), he could fall asleep and when he woke up, the headache was gone.
We can guess today that AT Still got tension headaches and that the rope acted as something called a "suboccipital tension release".  AT Still had worked with surgeons and had taken courses in medicine and decided that bones and their placement had a lot to do with disease in the body.  He spent the next 30 years researching the idea and the branch of medicine known as Osteopathy was born.
At the time, given that the scientific method wasn't being used readily in medicine, un-invasive things like osteopathy were much safer.  I have read some old medical texts based on anectodal evidence and some of the "treatments" are criminal.  Still's approach was safer and he spend the last part of his life trying to promote the approach he invented. 
In the early part of the 20th century, a pair of allopathic physicians (MDs) who were brothers approached AT Still about incorporating his ideas into the medicine that was already being practiced - the Little John  brothers thought there was real value to what Still was trying to promote. 
At some point, there was a falling out between the Littlejohn brothers and AT Still, which was probably a shame because, personally, I think the Littlejohn Brothers had it right – that osteopathic techniques, used in conjunction with allopathic medicine, is an effective way to treat patients. Unfortunately, a big rift formed between the DO (Doctors of Osteopathic Medicine) and the MDs (Doctors of Allopathic Medicine).  Some of the older DOs still hold a real grudge, and some of the older MDs still look down on us humble DOs.
Fortunately, the newest generation of physicians doesn't really give a damn.  Now, the MDs have been very accepting of the ideas…even Ivy League schools.  Harvard Medical school did a controlled study (real science!  Jesse Pinkman…YEAH, SCIENCE!) that found that osteopathic techniques aren't just safe, but in a broad range of cases, more effective than medicine for various pain syndomes.  Today, MDs and DOs hold the same medical privileges throughout the country and the line between the two has become really blurred.  Frankly, nobody really seems to care anymore.  Maybe it's different on the coasts, but here in the Midwest, we are more concerned about a doctor's ability to treat a patient, than concerned with the letters after their name.  I work alongside my MD collegues who never question my abilities or skills, and I never question their commitment to humanism because, at the end of the day, we're a little too busy trying to make a difference to care about letters.
Some of my DO collegues are surgeons and some are specialists.  Some don't use their OMM on a regular basis, but I do.  I bust out the osteopathic techniques in my office, including the very first one – the suboccipital tension release that AT Still founded a new branch of medicine with.
#4.  The Not-Awesome Story of a Pandemic
Human history has been marked by periods of disease, none more prominent than the Black Plague in Europe which killed nearly ¼ to ½ of the population there. Make no mistake, we are currently witnessing a pandemic at this very moment.
HIV/AIDS will be remembered in history as our plague.  Because it is.  But humanity's latest bout with disease has run a different course than plagues in the past.  It is a story we should know and while it is decidedly not awesome, it is important. 
This story, like all the others on this list has been criminally simplified by myself, in the interest of time and attention span.  The full story of HIV/AIDS is one that would take reams of paper and gigabytes of data to tell.  So forgive the brevity, please.
The earliest recorded case of HIV/AIDS was in 1959 in Africa.  A man died of an unusual infection and the scientists and doctors at the time had the wherewithal to save the man's blood plasma, thinking that they may want to save it to test it for something they didn't know existed.  I still think this is amazing.
HIV is a variant of SIV (Simian Immunodeficiency Virus).  The eating of monkeys is quite a common practice in certain parts of Africa and the current theory is that a person may have cut him or herself on a knife while skinning the monkey. 
(No, it wasn't a sex-with-monkeys thing.  Get your mind out of the gutter.)
HIV is a retrovirus which means that it stores it's genetic code in the form of RNA rather than DNA.  Why this is important will be discussed in just a bit.  This type of virus was a footnote in many immunology text books through about 1978, before something very strange started showing up in Emergency Rooms on the Coasts in America, as it has been told to me by some of the older immunologists and various physicians I have bugged for stories…
They called it the "4-H Club" and it was a group of people that kept showing up with very weird bacterial infections and cancers.  Kaposi's sarcoma was the one that really had people baffled…Kaposi's sarcoma manifests as purple spots on the skin and had only previously been seen in people with inherited immune deficiency syndromes.  The "4-H" Club consisted of Homosexuals, Heroin Addicts, Hemophiliacs, and H­aitian Sex Workers.  These people kept showing up in the ERs with strange infections and Kaposi's sarcomas. 
And so HIV/AIDS was discovered.  At first, nobody knew what was happening.  People suspected the disease was blood borne and they were right – an old attending I had was a 3rd year medical student in the late 70s and remembers a surgical resident getting cut by a scalpel in surgery.  My attending said the resident became paralyzed with fear, and broke scrub right in the OR (a huge no-no) and furiously started scrubbing his hands in the sink, looking like he'd just stepped over his own grave.  Because nobody knew.
But people found out. 
Never before in human history has a global pandemic been so quickly identified, have there been tests made so quickly available, and treatments invented.  AZT was the fastest drug invented in human history in response to a new disease.  Now, about 30 years later, there's real treatment for HIV and it's a disease that can be managed chronically, rather than a death sentence.
If you're wondering why a vaccine for HIV has been so difficult it's because it's a retrovirus.  Normally, a virus stores it's genome in DNA, which is turned into RNA to make proteins.  Think of RNA as a copy of the master plans (DNA) and that copy being taken out into the cellular machinery to make proteins.  Well, with HIV, the master plans are in copy format, rather than the more stable master plan format (DNA).  So the virus tries to use a copy of the plans, to make the master plans, to then make another copy of the master plans which is used to make proteins in the cellular machinery.
Did you get all that?  If you didn't , that's okay because it is complicated.  The point is – the RNA to DNA to RNA process is really error prone and it changes the make up the proteins.  In the case of a vaccine, the protein coat of the virus determines what the immune system looks for and targets.  In HIVs case, the protein coat is always changing, so it's kind of like your immune system always having to look for bad guys wearing a different uniform.
Here's the point:  people figured all this out.  How fricking awesome is that?
Don't get me wrong – I'm not trying to excessively pat science on the back here, nor am I remotely suggesting that HIV/AIDS is "fixed".  I'm not.  HIV/AIDS is ravaging Africa at the moment.  It's estimated that ¼ people in some parts of Africa have the disease and it will likely kill them all.  The resources are trying to be sent there, but currently, it's a losing battle. 
Incidentally, George W. Bush has somewhat quietly done quite a bit for this cause, and should be commended.
For the first time, though, we actually have the scientific knowledge to affect a disease so new to a population.  As we now know, curing the disease and helping people extends well beyond just the science. 
I find myself wondering what would have happened, though, if HIV/AIDS had struck humanity in the 18th or 19th Centuries.  Would it have spread across the world like a wild fire?  How many would it have killed?  How many will it kill now…now that we know how to prevent it, will politics and claimed morality get in the way of prevention as it has in Africa?  Would the same thing have happened in the 1800's?  Could the disease have spread like it has now, without air-travel?
 I don't know.  I do know that people managed to recognize, test for, treat, and learn to prevent a brand new disease over the course of about 30 years.
And that has never been done before in human history.  Which makes it a fascinating story.
#3.  The Story of Dr. Galvani's Frog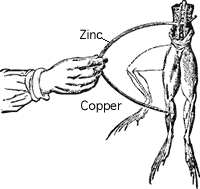 In 1790, a man named Luigi Galvani made a dead frog come back to life.  At least that's how it looked.
Galvani connected the bottom half of a frog to a zinc and copper circuit and completed the circuit with a metal (magic) wand…and made the dead frog's legs dance as if it was alive.  As you can imagine, in 1790, this was considered to be supernatural and shocking feat, but what Galvani likely didn't realize was that this demonstration would be the basis for diagostic tool most often used by cardiologists to this day.
Fifty years later, several other scientists named Kollicker and Mueller who had studied Galvani's work built upon it and noticed that if you isolated a motor nerve in yet another poor frog and put it over the frogs beating heart (don't ask me how they pulled that off - but they did) the leg would kick with each beat of the heart.  In other words, they realized that there was an electrical signal beating through the heart which was transfering through the nerve.  This was a big deal because it let scientists know that there was electricity flowing through the heart.
Roughly 25 years later, two more scientists named Ludwig and Waller figured out a way to monitor the electrical impulses from the heart from the patient's skin.  
Finally, just a shade over 100 years after Galvani made the frog legs dance, a man named Willem Einthoven put it all together and created the first ElectroKardoGram (EKG).  The EKG uses leads attached to a patient's chest (like Ludwig and Waller figured out to do) to measure the electrical impulse going through the heart (that Galvani, Kollicker, and Mueller figured out was there).  Einthoven was the first one to figure out how to effectively and practically measure and record the electrical impulse. 
The EKG is the most used tool in all of cardiology.  It can diagnose heart attacks un-invasively, it predict if someone is at risk for surgery, and it is major jumping off point for all of the diagnostic tests we have.  It is one of the most important tools in medicine.
And it all started with a frog.
#2.  Another Chapter in an Ongoing Story
Antibiotics are arguably the most successful chemotherapy in the history of medicine.  
(yes, it's chemotherapy - you're using a chemical for therapeutic benefits)
The complete story of antibiotics is a long one - certainly too long to cover here and, if we recall our history, Alexander Fleming and Paul Ehrlich who found the "magic bullets".  The reality is that antibiotics existed prior, up to 2000 years prior.  You already know the Story of Silver up there at #10…it wasn't the only antibiotic in existance.
There is evidence of tetracycline in the bones of ancient Sudanese tribes dating back before the birth of Christ.  Tetracycline is unique among the antibiotics as it deposits in bones and can therefore be tested in this manner.  There are stories of antibiotic properties of the "red soils of Jordan" as well.
The first disease to be targeted by an antibotic was syphillis.  Ehrlich made the observation that certain bacteria can take up certain stains and hypothesized that certain bacteria would also take up certain antibacterial compounds.
As it happens, syphillis can also infect rabbits (those poor rabbits) and so this was the animal test as well as the bacteria of choice.  Ehrlich and and a man named Sahachiro Hata tested compound after compound before they finally arrived at the 6th drug of the 600th series.  This was dubbed formula 606, marketed as a drug called salvosaran, and became world's first commercially produced, widely available, relatively side-effect free antibiotic.
Ehrlich's systematic approach changed the way pharmaceuticals were developed.  This led to the development of antibiotics we know as sulfa drugs by the Bayer company, by the way.  This is the way you're supposed to do science…systematic, with tests, evidence, controlled trials and real research.
Interestingly, Ehrlich was of German/Jewish decent and signed a controversial document defending Germany's militaristic approach in the beginning hours of the first World War.  
Even more interesting than Ehrlich's politics were his obstacles.  Because he was working with syphillis, the tenor of politics at the time was that this work would lower the sexual inhibitions of the population and create an immoral culture.  There were also anti-semetic tones to his criticism and the financial success he enjoyed from his discovery.  He was accused of pushing his trials forward, and even had to testify in a criminal court about the fact that some people had died during trials.
These criticisms, both personal and professional pushed a man who's work helped save more lives than we'll likely ever know, into a depression that he never recovered from.  He died in 1915, of a heart attack at age 61.
The British Scientist Alexander Fleming had bugged people for over 12 years to pay attention the idea of bread mold as an antibiotic and had doggedly pursued the idea of purifiying a certain type of mold known as penicillium.  In 1940, a discovery by an English team of microbial scientists at Oxford allowed Fleming to solve his purification problems and by 1945, penicillin became a mainstream drug.
One can only wonder what would have happened if the problem had been solved 5 years earlier and penicillin had been available in 1940, instead of 1945.  It's impossible to know if the tumultuous political climate of Europe in the late 1930's had any effect in hindering these discoveries.  What if Ehrlich had been able to work with Fleming, perhaps solving the purification problem earlier.  What if penicillin had been widely available in WWII?  How many lives could have been saved then?
We can't know, of course.  We can only learn from the pitfalls of that story - I find a huge amount of parallels in that story with the current push against Guardasil vaccine on moral grounds - it is the latest chapter the same story that seems to hold back science.  What would have happened to antibiotics at the time if people had listened to the naysayers who said that the option to treat an STI will result in the total moral break down of society.
Think if we had lost the work that Ehrlich did to those arguments.  I find it chilling.
#1.  The Story of How Cows Changed the World
In the 17th and 18th centuries it was a very real possibility that you would die a particularly horrible and painful death at the hands of smallpox.  Smallpox killed roughly 400,000 Europeans annually and was feared nearly as much as Bubonic Plague. 
Edward Jenner is credited with the invention of the vaccine, though this isn't the first time disease was used to fight disease.  Before Jenner, physicians in China and India practiced something called inoculation or variolation.  It involved (get this) the crushing up of small pox scabs and snorting them.  Cool, right?  Well, maybe not so much, but it worked…kind of.
Inoculation seemed to kill about 2-3% of the people who did it, vs the 30% that got the real disease.  If there was epidemic sweeping a community, it was probably a good idea, but it wasn't perfect.  That said, it probably saved more lives than it took.
(consider, though, that if you get a fever after a flu shot that it used to be a hell of a lot worse)
In 1796, Dr. Edward Jenner made two observations that would change the course of medicine and, ultimately, the course of human history:  People can't get Smallpox twice and Milk maids don't get Smallpox at all.  Whether or not he observed this himself or somebody pointed it out to him is unknown (Jenner ultimately figured out what to do, so I guess he gets to take some liberties).  Milk maids were known to get Cowpox quite often (hence the name) and Cowpox was known to be quite mild.   
Jenner speculated that Cowpox was a less virulant version of Smallpox and that the body "remembered" what to look for.  As it happens, he was actually closer on the latter thought than the former; Cowpox is a cousin of the Smallpox virus but not the Smallpox virus per se.  This is splitting hairs somewhat - Jenner was close enough.
The observation that was perhaps more important was that people don't get Smallpox twice.  Jenner put the two together and decided to try something (as the story goes):  He got a young boy, (maybe) permission from the young boy's mother, and a milk maid with a nice case of Cowpox.  He got himself a needle, and dug around one of the Coxpox pustules and took said needle in the young boys arm. 
The young boy (who's name, unjustly, I have never been able to find in the annals of history) got a great case of Cowpox and recovered nicely.  So then, Jenner led him right down to a Smallpox ward and had him start changing dressings or bedpans or presumably whatever tasks were given to children at that time. 
And the little boy lived to tell the tale, unscarred and unmarred, unravaged by Smallpox.
While this seems unthinkable now, that little boy in the story may have been the first vaccinated person in the world.  It worked, vaccination spread, and in 1979, Smallpox was the first disease eradicated from the face of the earth.  In 2011, with somewhat less fanfare, the disease rinderpest was declared eradicated, the second time humans have been able to pull it off.  Rinderpest only occurs livestock, so you probably didn't hear about it. 
Make no mistake - Vaccines have saved us from the horrors of Smallpox (g'head, do a Google image search), have kept us out of iron lungs, chased measles to the brink of extinction, have protected the eyes and ears of the unborn (rubella in utero is devastating), and have saved more children's lives than we will likely every be able to quantify. 
Of course the debate rages over vaccines.  You may have noticed my bashing of mercury up in story #5…you might saying to yourself, Crosbie, there's mercury in vaccines.  There isn't.  It's been taken out.  And yet the numbers of autistic kids rise.  The numbers of autistic kids are rising in un-vaccinated kids.  And now, diseases that were once thought to be gone are killing kids.
Let's make this very clear:  This has been studied EXTENSIVELY through REAL SCIENCE.  Vaccines DO NOT cause autism.
But you don't have to listen to me about vaccines.
Ask those who remember what a case of polio did to a community who shared a neighborhood swimming pool.  Ask a person in the middle of a shingles outbreak how he feels about the chickenpox party 40 years ago.  If you know any, ask an old anesthesiologist or ER doctor  about intubating a kiddo with epiglottitis caused by H.Influenzae, when anything that caused the child to cry would cause that child's throat to close tighter than a bank and suffocate right there in the ER.  It used to happen - it's no joke.  Ask somebody who's kid is in the ICU with whooping cough.  Ask a young man who's had an orchiectomy (removal of a testicle) as a result of mumps (did you think it was just a swollen neck?).
Please, please, please don't ask the internet or seek the counsel of MTV reality stars who are also hawking e-cigarettes.  Ask your Doctor friends or your Nurse friends - the older the better.  Ask a medical friend over coffee or a beer, rather than trolls on a website.  Or ask me.  I don't mind.   (I especially don't mind if you bring beer)
And the word vaccine?  It comes from the word vaccus…it's the latin word for cow.  And they changed the world.
And now, as a famous radio personality once said, you know the rest of the story.